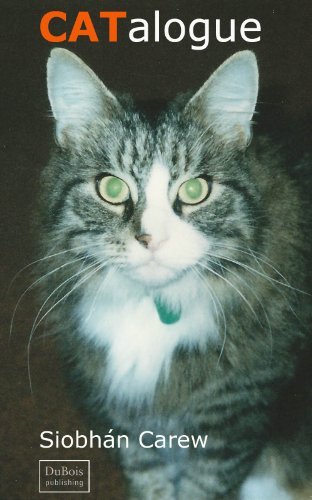 CATalogue by Siobhan Carew – A hilarious book from the rather imperious voice of much-maligned Merlin the cat.
Merlin wishes he had a magic wand. There are problems at home. His owner, Angie, has married Dick, and Merlin really doesn't like him. Dick's negative attitude and cutting comments would depress any cat, but Merlin is feisty, and he stands his ground. Dick's daughter Celine, her boyfriend Maffs, and his son Reg have become a part of Merlin's life. He has strong opinions about them.
Even independent cats need friends and Merlin's very best friend is Bumface. He hangs around with Scrotak, a quiet cat who has recently moved in, with plucky Percival and his sister Petal.
Ah, neighbours: Merlin wishes Ginger didn't live next door. The man is nosy and nasty. Antonia, who lives the other side, is ancient and well-meaning, but dotty. Not the best cat-sitter!
Interspersed with Merlin's story are anecdotes about his friends, and other cats.
---
Reviews for CATalogue
"Merlin has such sharp wit and claws! This is such a funny book, from Merlin remarking the cat flap must have shrunk with all the rain (not from his increasing weight of course), and not understanding why humans would actually want to get wet when they go for showers. Absolutely hilarious stuff!" – Niamh – Five star review on Amazon
"Life from the cat's view. Very funny – made me laugh such a lot. I felt like I was Merlin the cat, I really got into his point of view. I think this is suitable for all ages. A really good read. Hope Merlin lives a long time and we have more of his stories." – Midwife – Five star review on Amazon
"Merlin, a fantastic feline character, has a BIG personality – one that I did not initially warm to despite the immediate injection of humour due to his anger issues. But, like with any good story, we get a deeper understanding of what has driven Merlin's behaviour and thought processes as the tale progresses. This book is just a bundle of laughs from start to finish. And, when it did end, I was left wanting more. Very witty and cleverly written. Well done, Merlin! I highly recommend it." – Xenon – Five star review on Amazon