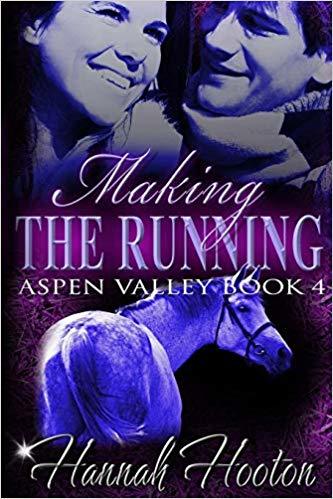 Making the Running by Hannah Hooton – The fourth in Hannah's Aspen Valley series.
On the surface of things, life for stable lass, Kate Creswell, looks rosy. Wealthy boyfriend, Nicholas, is a text-book example of the perfect partner, and her ambition to lead up at Cheltenham Festival is set to come true with her favourite horse, d'Artagnan.
But dig a little deeper and thing aren't quite so blissful. There's the small task of keeping her mother's alcoholism a secret from Nicholas's well-to-do family. What about Nicholas's dislike of d'Artagnan's jockey, Ben de Jager? Could there be something more sinister to Ben's ability to be a good loser, and could their Gold Cup bid be in jeopardy?
A lot of things can change between flag fall and finish line. Nothing is a certainty. Not in life, not in racing, and not in love…
---
Reviews for Making the Running
If you are a Dick Francis fan, you will love the Aspen Valley series. Each book has different lead characters and can stand on its own, but it is fabulous if you can read the series in order. The racing scenes are very accurate and give a real feeling of what a race entails for horse, rider, spectator, groom, trainer, even bettor. I love everything about this book. The dialogue is excellent, characters are true to life. I wish I could give the whole series ten stars. Making the Running is the best one yet." – Cynthia Mcginnes – Five star review on Amazon
I absolutely loved this story! I couldn't put it down and read it in 2 days. The characters are likeable and, as ever, I fell in love with the horses personalities. Hannah Hooton's writing never fails to astound me. I have enjoyed all 4 Aspen Valley books and will be re-reading them all again so I can relive the amazing stories told. Thank you HH for opening up a whole new world to me: horse racing." – Helen Sofley – Five star Amazon review