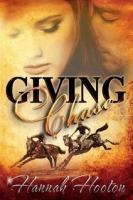 Giving Chase by Hannah Hooton – Second in her bestselling Aspen Valley Series.
Amazon Number One Bestseller and winner of the Best International Romance Award in the Some Kind of Wonderful Awards 2012.
There has only ever been one man in Frankie's life: her father, Doug Cooper. That is, until she takes the job of amateur jockey at Aspen Valley Racing Stables. Here, in the rolling countryside of southwest England, she crosses paths with star rider, Rhys Bradford. Her crush on him would be made so much simpler if they didn't both have their eye on the same prize: the coveted ride on Grand National favourite, Peace Offering.
In the turbulent run-up to National Hunt's biggest event, questions are raised. What exactly does Doug have against the Bradfords? Is Rhys playing games with her heart? Will Ta' Qali show his true potential in time to warrant his place at Aspen Valley? Why do there have to be so many blasted calories in strawberry cheesecake? And lastly, who exactly is Francesca Cooper?
Frankie's curiosity unearths some long-buried secrets which their keepers would rather remain buried, and on a journey of self-discovery that takes in Britain's fiercest steeplechase courses, love will prove her costliest stumbling point.
'Reminiscent of a Tom Sharpe novel but funnier.' ***** The Racing Post
'A pleasure to read. This book's a winner!' ***** Equestrian Trade News
---
Reviews for Giving Chase
"This is as good as Dick Francis for tension in the racing world. Ok there is a bit more sex, but this still is left to your imagination rather than being detailed. The early mornings, rain, mud, highs and lows of working at a racing stables combined with events in the past threatening the stability of those in the present make a thrilling read. I was nearly in tears with the emotion of the Grand National, caught up in the frenzy as if watching it on TV or even being there. The romance is totally believable, not slushy or over sentimental. Brilliant!" – MummyC – Five star review on Amazon
"Wow. I can feel the love story, big-hearted and tugging at all my heart strings. More sequels, please! The horse racing takes me there, running along the rails – am I looking at the horses or Rhys? But then the danger, the fences hit you just as hard as the emotions. Hannah Hooton leaves the reader in no doubt she knows what she is talking about. I learnt so much. This might be a modern Romeo and Juliet tale but there's nothing ancient about this story. It runs at pace and once you're off then it's more than a struggle to put down." – Alex Mellanby – Five star review on Amazon