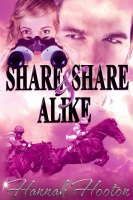 Share and Share Alike by Hannah Hooton – The third book in the Aspen Valley series.
Finalist in the RWA Marlene Contest, 2014.
Winner of the Katie Price Prize, 2014.
Everyone has secrets… Everyone has a past…
Tessa thought buying into the dysfunctional Ta' Qali Racehorse Syndicate would be the perfect distraction from a life best forgotten. Some are willing to distract her with words of woo, while others are able to distract her with just a nonchalant look.
But neither Hugh's flirtations nor Sin's disregard are diversion enough when their horse, Ta' Qali, is found deliberately injured. Someone close is responsible and Tessa finds herself questioning the innocence of everyone around her.
With his nobbler still at large, the race is on to get Ta' Qali fit and oncourse in time to prove himself to be the champion Tessa's always believed him to be. But he isn't the only one up against the clock. Love is threatening to leave without her; and win, lose or draw, Tessa's in for the ride of her life…
---
Reviews for Share and Share Alike
"This is the 2nd Hannah Hooton book I've read… Love them, can't wait to start the next one… and I never cared much for reading books." – Mr. DL Snell – Five star review on Amazon.
"Another good book and can't wait for book number 4 in the series. Loved the characters and the story line." – Angela – Review on Amazon.
Excellent all round thanks – Evi Levett – Five star review on Amazon.
Praise for Hannah Hooton
"Blessed with a ready wit and astute comedy timing." Racing Post
"Instead of reading two or three chapters, I scooted through eight or nine on several occasions. It is a book that consumes your mind." Racing 4 Girls
"Fun, fluent and occasionally flippant… the author's intimate knowledge of racing sets this book apart." Equestrian Trade News