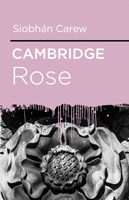 Cambridge Rose by Siobhan Carew – the third in her fantastic Cambridge Crime series.
Rose Foster meets Ronnie Lyndon when she begins a master's degree in Cambridge. A relationship blossoms. Rose is still reeling from the death of a beloved aunt. Is life now on the up? Just when she thinks it might be, Rose is plunged into a terrifying situation.
DI Harry Meredith has been investigating the kidnapping of a wealthy diplomat's daughter. When he discovers another university student is missing, Harry becomes concerned. Is Rose's disappearance purely a coincidence, or is something more sinister afoot?
---
Reviews for Cambridge Rose
"A page-turner plot makes this an extremely enjoyable read. Quite a few characters share equal centre stage, their individual traits and the way they interact are well-depicted. There is a soft warmth in the way the story is conveyed. An added benefit for me is the Cambridge location, this being my current home town, with the author providing imaginative references to some city highlights and lowlights (like that dreaded speed camera on Elizabeth Way!)." – Richard Gould – Five star Amazon review (Aug 2019)
"Book 3 in a great crime series by Irish author Siobhán Carew. Love these books, the cats and the mystique" – Niamh – Five star Amazon review (July 2019)
"I finished reading 'Cambridge Rose' last night, and thoroughly enjoyed it. The pace dramatically quickened around the halfway mark. The relationships between Lorraine, George, and Rose were psychologically complex, and well thought out; sometimes it takes a disturbing or traumatic event to potentially bring people together.
I like cats, so Rose's relationship with 'Cat' was particularly interesting. I was very unsure how the story would end, so kept putting off reading the last few chapters, just in case something horrendous happened. This highlights the fact that I cared about the characters, which is of course what an author wants from their reader. It's the first book that I've read by Siobhan Carew, but it won't be the last." – FMT – Five star Amazon review (Aug 2019)