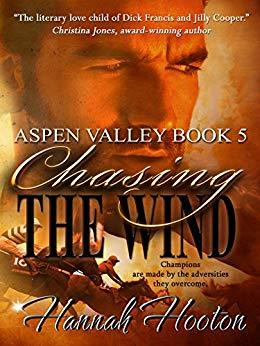 Chasing the Wind by Hannah Hooton – The fifth book in her fantastic Aspen Valley series.
CHAMPIONS ARE MADE BY THE ADVERSITIES THEY OVERCOME.
When tragedy strikes Aspen Valley Stables, racehorse trainer Jack Carmichael is in danger of losing everything – his wife, his reputation, his sanity… then in walks Lucy Kendrick, a young reporter, all set to shadow him.
Every journalist has an agenda and Lucy is no different. Can she uphold her cover when charismatic jockey Finn O'Donaghue makes her want to be no one but herself?
The Grand National beckons once more, but when the yard's runners start to fall foul of the authorities, the future of Aspen Valley Stables is threatened. Is the wreckage that is his personal life compromising Jack's ability to train or is there something more sinister going on?
---
Reviews for Chasing the Wind
"What a wonderful, exciting, emotional culmination to a top class series. I have loved every one of the Aspen Valley books but this one was just the best.
I was taken to the depths with the characters then lifted to great emotional heights with the story. I cheered with them and cried buckets with them and couldn't put it down until the very end. Thank you Hannah for a daredevil ride. You are the best." – J Goudie – Five star Amazon review