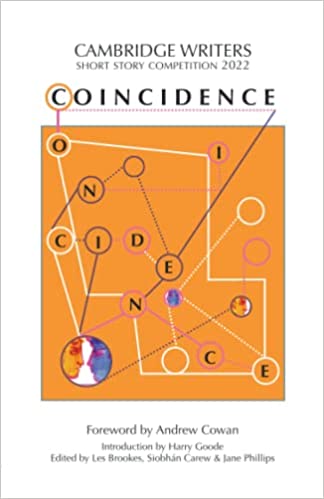 "Coincidence' – Short Story Competition Anthology 2022
'Coincidence' – A Great Christmas Gift
Our latest anthology makes a perfect Christmas gift for the avid reader in your life. Packed with a wide variety of short stories, all written on the theme of coincidence, but all wonderfully unique. Our writers brought their individual interpretations to this theme, resulting in imaginative, amusing and poignant tales that will leave you thinking 'oh I'll just read one more!"
A word from our judge, Professor Andrew Cowen
"What impressed me overall was the level of technical accomplishment. These stories were clearly written by readers, very attentive readers, who understood how to shape a narrative, how to reveal a character, how to pace a story's unfolding."
Huge thanks go to Les Brookes, Siobhan Carew and Thure Etzold for their hard work designing, editing and publishing our anthology this year.
Contributors
Les Brookes, Siobhan Carew, Blackthorn Donovan, Kathy English, Mike English, John Freeman, Liz Fullick, Harry Goode, Richard Gould, Christine Hawkes, Fran Johnstone, Rose Kavanagh, Stephanie Ledger, Rachel Levy, Tim Love, Karin Miller, Jane Phillips, Beverley Steffert, Francis Thompson and Josephine Warrior.
---
Reflections on Coincidence
"Another enjoyable and refreshingly mixed collection of short stories from Cambridge Writers." – Jane Wilson Howarth.